Who doesn't love baked pasta...especially one this easy.
Ingredients:
8oz cooked Ziti noodles
3/4 lb Ground beef or sausage, cooked with a garlic clove minced
1 1/4 Cups of Cottage Cheese
1 Egg
2 cups of Mozzarella cheese
1/2 Tbsp Parsley
Salt
Pepper
1 Jar Marinara Sauce
Digging in!
Directions:
Mix Cottage Cheese, Egg, parsley, Salt and pepper. In a separate bowl, mix together pasta, meat, and sauce. Layer half of this mixture on the bottom of a greased dish. Top with cottage cheese mix, and 1 cup of mozzarella cheese. Layer another of the noodles. Top with more cheese. Cover with foil, and bake at 350F degrees for 25-30 min. Take off foil and bake an additional 3 or so minutes to brown a bit of the cheese.
I hope you like it.
Anthropologie
This is the
Circle blooms framed art
on Anthropolgie for $698. Shew....but I think this is something me and my little girl could make together! I'm picturing a round foam brush, .25cents? and some paints I already have. $0. And a sheet of paper....$0.01cents? I think we can manage it.
Which rug would you pick?
anthropologie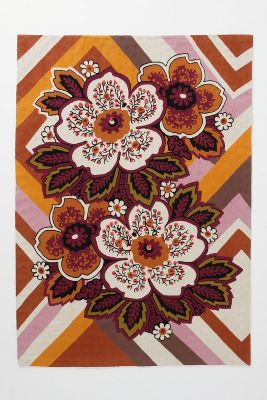 anthropologie
I'm not buying one, but its good to know what you like.
I hope you are all having a good week. The weather has been more comfortable!
Sewright
Blog by Ruth Yoder
Don't forget to subscribe to my posts!